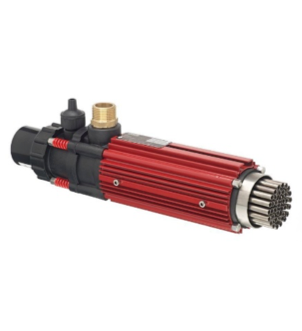 G2 Multi Tubular Launching at Barilla
We are pleased to announce that we now include Elecro heat exchangers in our swimming pool heating range. These heat exchangers are built with 38 Titanium tubes inside to give as large surface area for the water to transfer heat as possible. Being made from Titanium, this also reduces the risk of pool chemical damage which will increase the lifespan of your heating system.

'The unique design and robust construction of the G2 Heat Exchangers offers an unrivalled heat transfer surface area, making it one of the most efficient products on the market' – Elecro Engineering

These heat exchangers are supplied with a connection kit. This, and the fact the G2 Multi Tubular exchanger is also very light-weight compared to other comparable products, means these heat exchangers are easy to install to any pool. A full install guide can be found in our swimming pool heating downloads section here.

Further features of the G2 Multi Tubular can found below. Give us a call to find out more!
Robust, durable construction
Stainless steel shell with special polyamide fittings
38-piece titanium internal tube bundle
Can work with indoor or outdoor pools
Thermostat pocket on all units
Solvent weld unions for connection to rigid pipe
1.5" connections
Suitable for salt, chlorinated and solar heated pools
Available with fully equipped Analogue or Digital control as optional
Can be floor or wall mounted with the bracket supplied
2-year warranty