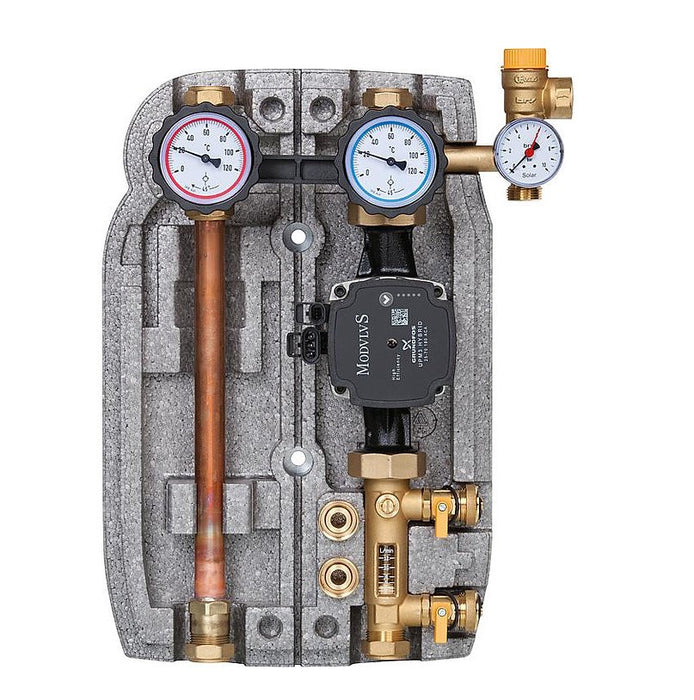 BRV Twin Line Pump St. 2-12 L/m, 1" Male, Grundfos UPM3 Hybrid
2-Way Solar Pump unit. Up to 12 l/min with Grundfos UPM3 Solar 25-75 Pump
The unit comes with a 1 1/4" (180 mm) solar circulating pump, fully assembled and tested, consists of:
FLOW: Temperature gauge Distance between supply and return 125mm
RETURN: Flowmeter with flow regulation with filling and draining valves. Synchronous solar high efficiency circulating pump with cables. Flanged 3-way ball valve with non return valve 10 mbar (which can be excluded by rotating the handle by 45°) supplied with in-handle thermometer. Security unit 6 bar with manometer 50 mm 0-10 bar with 3/4" Male connection to the expansion vessel.
4 x 3/4" male connections for flow and return
End of drain side: 3/4" F. Connection on right side.
Centre distance 125 mm.
EPP insulation box (Measurements: 155x425x150)
A special back plate fixes the unit to the insulation box and it allows a quick fitting to the wall or to the solar cylinder.
Dimensions: 372 x 325 x 202mm
PN 10. Constant temperature 120°C; (short time temperature: 160°C for 20 s).
External connections: 3/4" Male Pumpstation with PWM and Mechanic Relay options
Pump Info: UPM3 SOLAR is an OEM high efficient circulator offering flexible solutions for thermal solar systems. It is designed to work both with and without PWM signal, allowing you to upgrade your systems without having to change the controller.