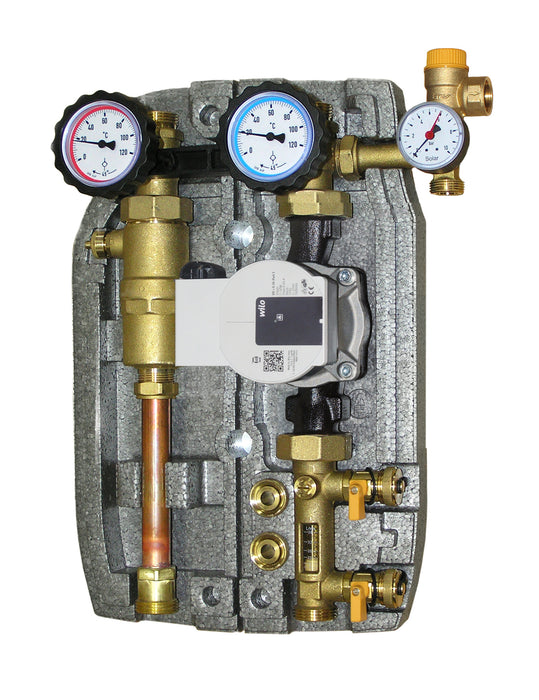 BRV S2 Twin Line Pump Station, Wilo Stratos Para 25/1-8
2-Way Solar Pump unit. Up to 38 l/min with Grundfos UPM3 Solar 25-75 Pump
The unit comes with a 1" (180 mm) solar circulating pump, fully assembled and tested, consists of:
FLOW: Temperature gauge Distance between supply and return 125mm
RETURN: Flowmeter with flow regulation with filling and draining valves. Synchronous solar high efficiency circulating pump with cables. Flanged 3-way ball valve with non return valve 10 mbar (which can be excluded by rotating the handle by 45°) supplied with in-handle thermometer. Security unit 6 bar with manometer 50 mm 0-10 bar with 3/4" Male connection to the expansion vessel.
End of drain side: 3/4" F. Connection on right side.
Centre distance 125 mm.
EPP insulation box (Measurements: 155x425x150)
A special back plate fixes the unit to the insulation box and it allows a quick fitting to the wall or to the solar cylinder.
Dimensions: 372 x 325 x 202mm
PN 10. Constant temperature 120°C; (short time temperature: 160°C for 20 s).
External connections: 3/4" Male Pumpstation with PWM and Mechanic Relay options